From climate change to online disinformation, our Policy Reports provide evidence-based, nonpartisan insight from top scholars and practitioners into complex global challenges. IGP Policy Reports draw on the latest research from Columbia University and beyond to bring together diverse perspectives and provide practical recommendations to guide policy action around the world.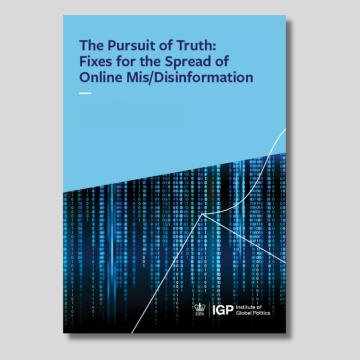 Forthcoming Report
The Pursuit of Truth: Fixes for the Spread of Online Mis/Disinformation
Author: Anya Schiffrin
Recent worries about the propensity of generative AI to create false information––i.e., "hallucinate" and spread untruths––have added to the worries about the global information ecosystem. Mass mis/disinformation, whether about COVID-19 or Russia's war in Ukraine, spread by leading politicians and fueled by the growth of generative AI, is a problem that is here to stay. Using our supply and demand side taxonomy, this Policy Report lays out the universe of supply and demand-side policy fixes to determine actions that can help address the problem.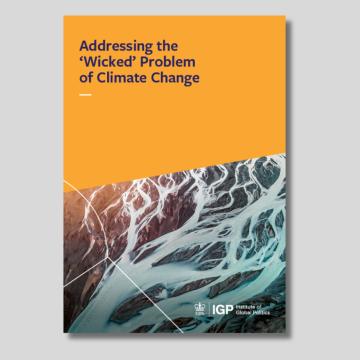 Forthcoming Report
Addressing the 'Wicked' Problem of Climate Change
Authors: Joseph Stiglitz, Scott Barrett, and Noah Kaufman
Climate change is a "wicked problem" that eludes easy definition and cannot be solved simply, but addressing its harmful effects requires an understanding of economic tradeoffs, the politics of policymaking, and the strategy of diplomacy. Because global emissions have continued to soar and cooperation has fallen short, more radical reductions are needed sooner and new approaches are needed to promote collective action. As befits a "wicked problem," a wider range of policies are needed to reduce emissions.
Forthcoming Report
Food Systems Transformation: Policy Solutions Toward a Food-Secure World
Authors: Glenn Denning, Jessica Fanzo, Ermias Kebreab, Jyotsna Puri, and Wolfram Schlenker
The global food system is failing to meet its most fundamental objective: to provide access to affordable, healthy, and safe diets, styming progress on ensuring food security for all people at all times. This Policy Report lays out an evidence-based strategy for achieving universal food security and provides recommendations in how and where we produce, distribute, and consume food in an adversely changing climate.
Inaugural Carnegie Distinguished Fellows
We're creating a community of high-profile leaders and practitioners to pursue innovative policy solutions, mentor the next generation, and more.
Events
Events provide a channel for IGP to engage SIPA students, the Columbia community, and the public at large.